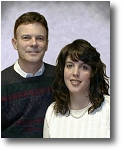 The Give To Get Marketing Credit Card Guarantee


Your credit card information is safe and secure when you shop at The Give To Get Marketing online store. We guarantee it!

Online credit card transactions are now more safe and secure than offline transactions

Due to the development of secure servers and state-of-the-art encryption technology, online credit card transactions are now one of the safest ways to purchase with your credit card.

When you consider how often you provide your credit card information to total strangers--in restaurants, department stores, over the phone, etc.,--the potential for misuse of that information is relatively high. With our online secure servers and encryption process, the protection and security of your credit card information is greatly increased.

In addition, to make your shopping experience with us worry-free, we back every purchase you make at our online store with our Credit Card Guarantee.

Here's how it works

When you place a credit card order at our online store, our credit card transaction provider, encrypts all of your credit card payment information through a secure server. This state-of-the-art encryption process takes all of the personal information and converts it into separate packets of code that are then securely transmitted over the Internet. Your information is protected.


If you suspect a problem, follow the normal reporting procedures defined by your credit card provider and also contact us immediately. Most credit card companies cover all charges resulting from unauthorized use, but they may legally hold you liable for as much as $50.


If, through no fault of your own, unauthorized charges appear on your statement as a direct result of providing your credit card information through our Give To Get Marketing online store, we will cover the amount for which your bank holds you liable, up to a maximum of $50.


What does all of this mean?

It means you can shop worry-free and be confident in the security and support behind your purchases at The Give To Get Marketing online store.
-- Joe and Maria Gracia